Schachenstrasse.39, CH-4658 Daeniken,
Phone:+41(0) 62 291 32 98 Email: info@gurudwaraswitzerland.ch
ਵਾਹਿਗੁਰੂ ਵਾਹਿਗੁਰੂ ਵਾਹਿਗੁਰੂ ਵਾਹਿਗੁਰੂ ਵਾਹਿਗੁਰੂ ਵਾਹਿਗੁਰੂ ਵਾਹਿਗੁਰੂ ਵਾਹਿਗੁਰੂ ਵਾਹਿਗੁਰੂ ਵਾਹਿਗੁਰੂ ਵਾਹਿਗੁਰੂ ਵਾਹਿਗੁਰੂ ਵਾਹਿਗੁਰੂ
Shri Guru Granth Sahib JI

Darbar Sahib.Gurudwara Switzerland at Daeniken

Bhai Nirmal Singh ji, Hazuri Raggi, Sis Ganj Sahib.Delhi
SikhPrayers
Programm & Calander 2014 for Langer Sewa
Sikh News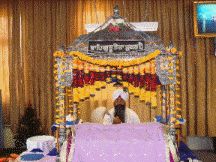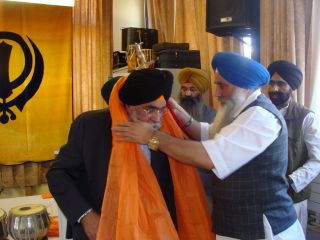 Die Sikh glauben an den einen höchsten Gott. Der Guru Granth Sahib, das Heilige Buch beginnt mit dem "Mool Mantar", d. h. "Wurzel-Mantra." Es ist das Glaubensbekenntnis:
"Mool Mantar: Nur ein Gott

Wahrheit ist der Name
Der Schöpfer ohne Furcht
Ohne Hass. Unsterblich.
Über Geburt und Tod.
Selbsterleuchtet.
Offenbart durch den wahren Guru."
ੴ ਸਤਿ ਨਾਮੁ ਕਰਤਾ ਪੁਰਖੁ ਨਿਰਭਉ ਨਿਰਵੈਰੁ ਅਕਾਲ ਮੂਰਤਿ ਅਜੂਨੀ ਸੈਭੰ ਗੁਰ ਪ੍ਰਸਾਦਿ ॥

ikoankaar sathnaam karathaa purakh nirabho niravair akaal moorath ajoonee saibhan gurprasaadh||

One Universal Creator God.TheName Is Truth.CreativeBeingPersonified.NoFear.NoHatred.ImageOfTheUndying, BeyondBirth, Self-Existent. By Guru's Grace~

ਜਪੁ ॥

|| jap ||

Chant And Meditate:

ਆਦਿ ਸਚੁ ਜੁਗਾਦਿ ਸਚੁ ॥

aadh sach jugaadh sach ||

True In The Primal Beginning. True Throughout The Ages.

ਹੈ ਭੀ ਸਚੁ ਨਾਨਕ ਹੋਸੀ ਭੀ ਸਚੁ ॥੧॥

hai bhee sach naanak hosee bhee sach ||1||

True Here And Now. O Nanak, Forever And Ever True. ||1||

ਸੋਚੈ ਸੋਚਿ ਨ ਹੋਵਈ ਜੇ ਸੋਚੀ ਲਖ ਵਾਰ ॥

sochai soch n hovee jae sochee lakh vaar ||

By thinking, He cannot be reduced to thought, even by thinking hundreds of thousands of times.

ਚੁਪੈ ਚੁਪ ਨ ਹੋਵਈ ਜੇ ਲਾਇ ਰਹਾ ਲਿਵ ਤਾਰ ॥

chupai chup n hovee jae laae rehaa liv thaar ||

By remaining silent, inner silence is not obtained, even by remaining lovingly absorbed deep within.

ਭੁਖਿਆ ਭੁਖ ਨ ਉਤਰੀ ਜੇ ਬੰਨਾ ਪੁਰੀਆ ਭਾਰ ॥

bhukhiaa bhukh n outharee jae bannaa pureeaa bhaar ||

The hunger of the hungry is not appeased, even by piling up loads of worldly goods.

ਸਹਸ ਸਿਆਣਪਾ ਲਖ ਹੋਹਿ ਤ ਇਕ ਨ ਚਲੈ ਨਾਲਿ ॥

sehas siaanapaa lakh hohi th eik n chalai naal ||

Hundreds of thousands of clever tricks, but not even one of them will go along with you in the end.

ਕਿਵ ਸਚਿਆਰਾ ਹੋਈਐ ਕਿਵ ਕੂੜੈ ਤੁਟੈ ਪਾਲਿ ॥

kiv sachiaaraa hoeeai kiv koorrai thuttai paal ||

So how can you become truthful? And how can the veil of illusion be torn away?

ਹੁਕਮਿ ਰਜਾਈ ਚਲਣਾ ਨਾਨਕ ਲਿਖਿਆ ਨਾਲਿ ॥੧॥

hukam rajaaee chalanaa naanak likhiaa naal ||1||

O Nanak, it is written that you shall obey the Hukam of His Command, and walk in the Way of His Will. ||1||




ਕਈ ਕੋਟਿਪਾਤਾਲ ਕੇ ਵਾਸੀ ॥ ਕਈ ਕੋਟਿ ਨਰਕ ਸੁਰਗ ਨਿਵਾਸੀ ॥ ਕਈ ਕੋਟਿ ਜਨਮਹਿ ਜੀਵਹਿ ਮਰਹਿ ॥ ਕਈ ਕੋਟਿ ਬਹੁ ਜੋਨੀ ਫਿਰਹਿ ॥
ਕਈ ਕੋਟਿ ਬੈਠਤ ਹੀ ਖਾਹਿ ॥ ਕਈ ਕੋਟਿ ਘਾਲਹਿ ਥਕਿ ਪਾਹਿ ॥ ਕਈ ਕੋਟਿ ਕੀਏ ਧਨਵੰਤ ॥ ਕਈ ਕੋਟਿ ਮਾਇਆ ਮਹਿ ਚਿੰਤ ॥
ਜਹ ਜਹ ਭਾਣਾ ਤਹ ਤਹ ਰਾਖੇ ॥ ਨਾਨਕ ਸਭੁ ਕਿਛੁ ਪ੍ਰਭ ਕੈ ਹਾਥੇ ॥੫॥

Sardar SARNA Sahib ji (Delhi Gurudwara Parbhandak Committee)
Bhai Nirmal Singh ji, Hazuri Raggi, Sis Ganj Sahib.Delhi
with Sardar Kuldeep Singh (President) Gurudwara Switzerland at Daeniken
and Sardar Gurbachan Singh (Khalsa) , Sardar Kuljeet Singh